5 Home Renovation Projects to Boost Your Property Value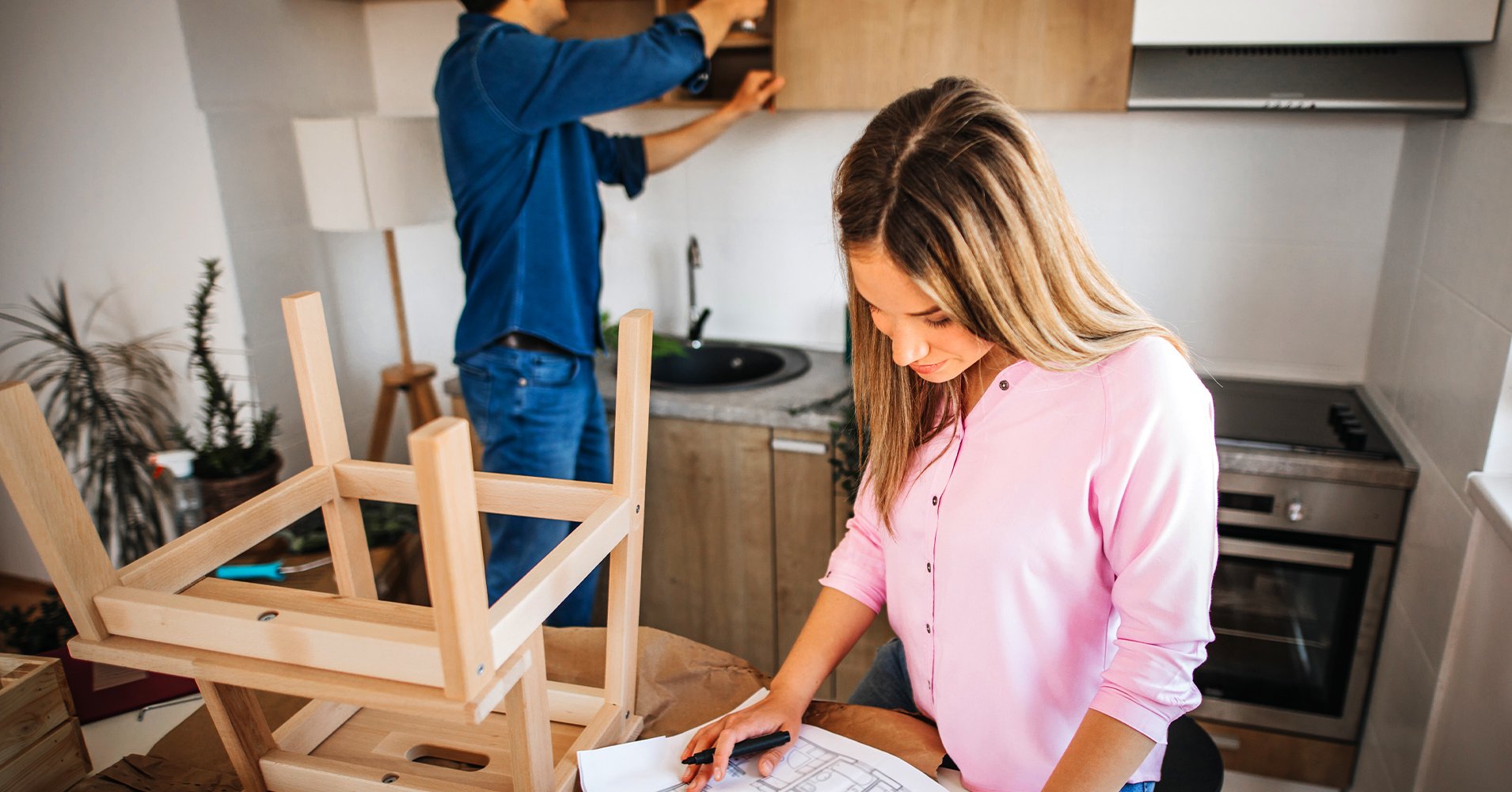 Your home is your biggest asset — it's an investment that you live in! That means any upgrades or remodeling you do to make your home a more comfortable, practical, and attractive place to live is usually a good idea, but some projects add more to your property's value than others.
Below we take a look at five of the best home renovation projects you can complete to increase property value (and one that you should probably avoid), and suggest some great places to go for tips and inspiration on how to boost property value even further.
If you're ready to get smart about your next home renovation project, read on!
Home Runs: Sure-Fire Property Price Boosters
Make the most of the money you put into your home with these smart but sensible ways to renovate or upgrade your home.
1. Minor Kitchen Remodel
Your kitchen is the heart of your home, and a well-executed remodel can significantly boost a home's value. Prospective buyers are attracted to updated, functional, and aesthetically pleasing kitchens, making them more willing to pay a premium for a home that already has these features in place.
According to the Remodeling magazine's "2022 Cost vs. Value Report", a kitchen remodel of this type costs on average around $26,214, of which you should expect to recover 78.3% at sale.
Assuming your eye-catching kitchen upgrades raise the overall price of your house by just 5-10% in value, you can expect to get around $20,547 of your investment back, based on Remodeling Magazine's estimate of a 78.3% cost recovery.
A minor to mid-scale kitchen remodel will focus on updating key components without major structural changes. This usually includes things such as:
Replacing cabinet fronts and hardware
Updating countertops with quality materials like quartz or granite
Upgrading appliances to energy-efficient models
Installing a new sink and faucet
Updating lighting fixtures
Repainting
A project like this will usually take four to six weeks to complete, depending, of course, on the scope of the work and any potential unexpected delays.
Your family will love having an upgraded kitchen while you are still living in the home. And, by investing in one of the most crucial spaces in the house, you'll be well placed to attract more buyers and stand out in the competitive real estate market.
2. Midrange Bathroom Remodel
A well-designed, modern bathroom not only makes your home more comfortable to live in but can also be a significant draw for potential buyers. Upgraded bathrooms with stylish features and fixtures can help set your property apart from the crown when it's time to sell.
According to the "2022 Cost vs. Value Report", a mid-range bathroom remodel typically runs around $21,377, of which you should expect to recover about 67.2% of this when you sell. At that rate, if your upgraded bathroom helps to raise the overall selling cost of your home by $30,000-$32,000, you could recover up to $14,377 of your investment.
The trick to a midscale remodel is of course to make smart changes that do not cost the earth. Start by replacing fixtures and faucets, adding a fresh coat of paint, and improving your lighting for a more inviting ambiance. Also consider upgrading the bathtub or shower, installing new flooring, and updating the vanity with quality materials like marble or granite.
For a limited bathroom remodel, plan around 3-4 weeks to complete, depending on factors such as the size of your bathroom and the specific modifications you choose.
By investing in your bathroom's functionality and aesthetics, you not only enjoy a convenient, updated space while living in the home, but you'll also position yourself to recover a big chunk of your investment when it's time to sell.
3. Deck Addition
Outdoor living spaces are increasingly desirable among homebuyers, and a well-crafted wooden deck can significantly increase your property's appeal. And, you'll enjoy a great space to relax, barbeque and entertain guests while you continue to own your home.
Based on 2022 data from the Remodeling report, the average cost of a wooden deck addition is approximately $17,668, of which you should expect to recover about 75.5% when you sell your property.
How would that work in practice? Well, the improved outdoor space utilization and better curb appeal of your property will make it more attractive to more buyers, potentially raising your eventual selling price by, say, $22,000. Given a cost recovery rate of 75.5%, that would mean $13,364 of your original investment in your deck goes back into your pocket.
That said, it's worth taking the time to design a quality deck addition that truly complements your existing outdoor space. Depending on your preferences and budget, the deck can incorporate features like built-in seating, stairs, and even outdoor lighting for a cozy evening ambiance.
Also be sure to select high-quality materials such as pressure-treated wood, cedar, or composite decking for durability and longevity. A poorly built deck with cheap materials will quickly begin to look shoddy.
A professional contractor will usually be able to complete a new deck addition in one to two weeks, depending on the size and complexity of your deck and any weather-related delays.
A quality deck addition will improve your outdoor living experience and boost your home's value. You'll enjoy the benefits of an enhanced outdoor lifestyle and make your home more appealing for the next owner.
4. Manufactured Stone Veneer
Elevate your home's exterior and curb appeal with a stone veneer addition. You'll feel good every time you pull into your driveway, and you have a good chance of recovering most or even all of your investment when you sell.
The average cost of a manufactured stone veneer addition to the typical home is now $10,610, according to data collected in the 2022 report. However, stone veneer is a hot commodity these days. An addition that adds just $10,000 to the cost of your home (that's 5% of the value of a $200,000 home) will get you 97.1%, or at least $10,610, back at sale time!
A stone veneer addition project brings a sophisticated and timeless appearance to your exterior. Quality-manufactured stone veneer is easy to apply and requires no special bracing. It's also available in various styles and colors to match your home's existing style.
And, most stone veneer addition can be applied in as little as a week or two, depending on the size of your home and how much veneer you are adding.
Keep in mind that fashions change and the current big gains in resale value for stone veneer may not last forever. However, as an upgrade, adding a little charm to the front of your home is still an affordable upgrade with a lot of potential upsides!
5. Garage Door Replacement
If you're looking for a quick, affordable home value fix, it's hard to beat simply replacing your existing garage door. Buyers, it turns out, love the look and sound of a recently installed garage door gliding up to reveal your garage.
Data collected for Remodeling Magazine in 2022 shows that a typical garage door replacement will set you back only $3,907. And while a new door may not make much difference to you if your existing door was still workable, it can definitely raise expectations among potential buyers.
A new garage door looks great from the street and makes your whole home look better maintained. Boosting perceptions and attracting more buyers need only raise your eventual selling price by just $5,000 for you to get almost the full value of your investment back.
Any garage door replacement involves upgrading your current model with a new, stylish, and better-functioning version. You'll also have a variety of options, including materials like steel, wood, fiberglass, and aluminum. Many modern garage doors often come with smart features that add convenience and security for your family — or future buyers.
The time commitment is also minimal. Expect a typical job to take just 1-2 days to complete.
All this makes a new garage door a smart choice if you're preparing to sell and want to give your home an edge. It's also a safe choice if you're making a list of smart and affordable upgrades that will have a big impact on your everyday life.
The following table summarizes the average expense of these projects and potential cost recoveries on the sale of your property.
| | | | |
| --- | --- | --- | --- |
| Home Renovation Project* | Average Cost | Resale Value | Cost Recovery Percentage |
| Minor Kitchen Remodel | $26,214 | $20,547 | 78.3% |
| Midrange Bath Remodel | $21,377 | $14,372 | 67.2% |
| Deck Addition (Wooden) | $17,668 | $13,364 | 75.6% |
| Manufactured Stone Veneer | $10,926 | $10,610 | 97.1% |
| Garage Door Replacement | $3,907 | $3,735 | 95.6% |
* Source: Remodeling Magazine 2022 Cost vs Value Report
Get Inspired
These are just some ideas to help you boost your home's value while improving your family's day-to-day comfort and convenience. For more smart projects that will add value to both your life and your property price, check out these online resources:
@philip_or_flop: DIY expert Phillip brings his skills to Instagram, with tips and tutorials on how to renovate kitchens, bathrooms, family spaces, and everything in between.
@thegritandpolish: A favorite Instagram account with tons of tips for simple, affordable changes that can have a big impact on the look, feel, and value of your home.
Home RenoVision DIY: Videos with tips and pointers on how to choose and execute do-it-yourself projects that will add real value to your home.
🚩🚩🚩 Here's One Project to Avoid!
What's the best thing about your garage? That it's a garage! Resist the temptation to turn this utilitarian space into anything else than a space to store your car, your furnace or water heater, and your junk.
While soaring property prices and a nationwide housing shortage have made turning your garage into an additional bedroom or family hangout space a popular choice, this is almost always a bad deal when it comes time to sell.
Turns out new home buyers want a garage when they buy a house, not a windowless bedroom or moodily lit mancave.
If you must use your garage for living space, keep any changes you make very cosmetic.
Radiant: Your Home Improvement Partner
Putting money into your home is a smart way to build wealth while ensuring your family has a comfortable place to live. Whether you are looking to remodel a kitchen or bathroom or simply brighten up your living room with a few well-chosen upgrades, Radiant Credit Union has the innovative financing options you need to make the most of your biggest asset.
Radiant's Home Equity Line of Credit (HELOC) offers cash as you need it, so you can make improvements to your home on your own schedule. And, because the money you are borrowing is secured by your home, it's the perfect way to finance upgrades that will increase the value of your property.
Click below to learn more about how a Radiant HELOC can help you put more into your home now, so you can get more out later.