12 Back-to-School Shopping Tips That Save Money in 2023
It's the time of year many parents dread even more than their kids. Back-to-school season brings end-of-summer tantrums and a rapidly expanding list of must-have items from clothing to classroom supplies.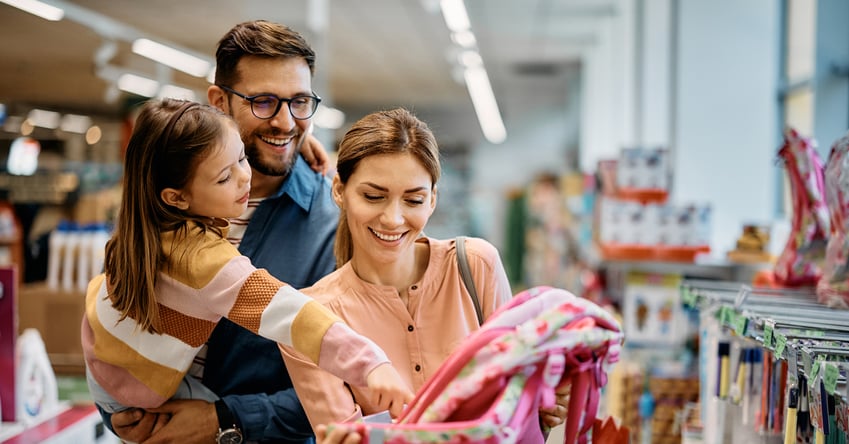 Read on for our list of back-to-school shopping tips that save money, so you can finish the summer with your household budget intact.
Class Act: Top Tips for Back-to-School Savings
While the end of summer may come as a relief to many parents, back-to-school spending can come as a shock to many families, especially after months of summertime expenses and extra vacation costs.
Here we take a look at what back-to-school shoppers spend the most money on and try to get a handle on how much you should budget for your own back-to-school expenses.
Then we'll share some tips for making your back-to-school fund stretch further.
What Do Back-to-School Shoppers Spend Money On?
It's often a shock for many families to realize how many different expenses the new school year brings. Commonly bought back-to-school items typically fall into the following categories:
Clothing and footwear including school uniforms, everyday clothes, athletic wear, and shoes for fast-growing feet.
School supplies including notebooks, pens, pencils, erasers, rulers, and calculators.
Technology and electronics including laptops, tablets, calculators, and headphones.
Textbooks and educational materials including, workbooks, study guides, or reference materials for various subjects.
Lunchboxes, water bottles, and food containers for children to take to school.
Backpacks and other bags to carry everything to school and back.
Equipment for sports and after-school activities, including athletic equipment, uniforms, musical instruments, and art supplies.
Toiletries, hand sanitizers, tissues, and other personal care and hygiene products.
However, school spending is concentrated in a few areas. A survey by the National Retail Federation (NRF) in 2022 found that parents expected to spend on average just less than $300 on electronics or other computer-related equipment for use in education.
They also expected to spend slightly less, an average of $264, on clothing and accessories and an additional $168 on footwear for use at school. When considered together, clothing and footwear represent the single biggest spending category.
Parents also anticipated spending $140 on average on back-to-school supplies.
The following table summarizes these findings.
Expected Spending by US Parents on
Back-to-School Items

Electronics
$293
Clothing
$264
Shoes
$168
School Supplies
$140
Source: Source: NRF's Annual 2022 Back-to-School Survey, conducted by Prosper Insights & Analytics
How to Budget for Back-to-School Shopping
According to NRF figures, the average American household spends $864 on back-to-school expenses. Another study by consultancy Deloitte found that parents expected to spend $661 on back-to-school spending in 2022. Both surveys expected families to spend even more in 2023.
Considering that, according to U.S. census data, the average American household has just less than two children, it seems most people reasonably expect to spend between $300 and $450 equipping a child for school.
The bad news is that spending less than this on your child's back-to-school supplies is likely going to involve some tough choices about what you should provide for them.
On the plus side, the same data from Deloitte suggests that spending on electronics to help children learn remotely spiked during the pandemic and is now receding. That means there might be room to spend significantly less on technology than these numbers suggest.
12 Back-to-School Shopping Tips
Either way, getting ready for the new school year remains very expensive for most families. Here are 12 top tips on how to get more bang for your back-to-school buck:
1. Make a List
Feeling overwhelmed? Your first step should be to make a list of what your children actually need. Seeing everything in one place lets you spot duplicates, or at least allows you to rank things by how important or necessary they truly are.
Most importantly, having a "master list" of back-to-school necessities will keep you on track when you head to the shops, so you won't be tempted by items you don't actually need.
2. Don't Take the Kids
It may seem a little strange, but if you can safely avoid taking your kids when you go back-to-school shopping, it gets a lot easier to stay focused on your list. Back-to-school marketing is designed to make both you and your kids think you need to buy more than you have to.
Shopping without the kids means you're less likely to be distracted by requests for everything from earrings to scented erasers or have arguments over whether a new skateboard counts as a back-to-school necessity. You'll probably save on smoothies and on-the-go snacks too.
3. Don't Spend It All at Once
Don't believe the hype. You don't need to have your kid set up for the entire year by the end of August. Spreading out your spending so you buy clothes and other supplies as they are needed eases the financial burden and allows you to wait for price cuts or sales events.
4. Compare Deals
Retailers compete hard for your back-to-school bucks, so take advantage. See which big box retailer has the best offers on their flyers or compare prices online before shopping in person. Chat with other parents to see what deals they've found.
5 Get Stores to Match Deals
Even better, get your preferred stores (where you might have a loyalty or rewards card or store credit) to match or beat deals by competitors. You'll pocket the difference while still earning loyalty rewards, discounts, or cash back.
6. Look Out for Coupons
Keep an eye on the newspaper, in-store fliers, and on your store receipt for coupons or special offers as back-to-school season approaches. You can also often qualify for coupons by signing up for online offers and promotions from retailers.
7. Buy in Bulk
It's not just Costco. Many big box and office supply stores package school necessities in bulk. While making you buy more than you need is an old marketing trick, you can beat the system by teaming up with other parents to spread the load of stocking up on classroom supplies.
8. Choose Store Brands
Store brands and in-house labels offer cheaper alternatives to many big-brand-name products. From clothes to toiletries, these generic alternatives offer comparable quality to the leading brands at a much lower price.
9. Don't Forget the Dollar Store
It's not glamorous, but there's a reason new dollar stores are opening every day. You might not get the slick presentation or fancy packaging you do at name-brand stores, but for many basic items and classroom supplies, dollar stores and discount retailers have you covered.
10. Shop the Tax Holidays
Many states, including Florida, offer sales tax holidays leading up to the start of the school year. In Florida for 2023, those tax-free shopping days last from July 24th until August 6th. Target these dates for tax-free, back-to-school shopping when you intend to buy computers, clothing, or school supplies.

PRO TIP: Your local credit union may have a promotion during those days that could save you even more money 😎
11. Look Out For Loyalty or Discount Programs
Almost all major retailers offer some sort of loyalty program that offers discounts or rewards points for shopping with them—many with no sign-up fee or subscription. This can be everything from a free membership to a store debit card offering a discount on all purchases.
While returns on each purchase may seem small, if you shop regularly at a retailer you may find savings add up fast. That's especially true of big box retailers where you can buy everything from soccer cleats to lunchbox snacks.
12. Pay With a Rewards or Cash Back Card
You can lock in rewards or savings on the money you spend on back-to-school shopping with a rewards or cash back credit card. These are provided directly by a card issuer, credit union, or bank or are offered through a particular retailer.
In either case, you'll most likely earn a range of benefits, from rewards points for spending in certain categories or at a certain retailer, or across the board to actual cash back in your account based on your spending use of the card.
Smarter Spending for Back to School and Beyond
If you're ready to get smart about saving, Radiant Credit Union's Visa® Platinum Rewards Card puts money back in your pocket every time you spend.
At Radiant we know keeping everything covered can be tough, especially at this time of year. Our Visa® Platinum Rewards credit card helps you spread the load and earn real rewards for spending with:
Low rates
No annual or transfer fees
Dime Back cash rewards for qualifying purchases
1 rewards point for every dollar you spend
And, Radiant members can now use their Platinum Rewards points to check out directly at selected retailers, or to pay for their most recent purchases.
Click below to learn more about how Radiant's Visa® Platinum Rewards card can help you save money by rewarding you for spending smarter.
BACK-TO-SCHOOL BONUS: From July 10th through August 31st, get 5,000 bonus points for opening a new Visa® Platinum Rewards Card!